ELEV8 Community Connection Event Registration - ONLINE ONLY at this time
Unlimited online viewing via a Facebook LIVE in the ELEV8 Facebook group beginning at 6pm PT on the day of the event.
Events are free to ELEV8 members – However, we do request a LOVE offering/donation for the teacher's time and energy. This in not required but is very helpful. Donations can be made in person at the event or here!
ONLINE PARTICIPANTS:
DUE TO POPULAR DEMAND: We have switched our online viewing method to utilizing a Facebook LIVE in the private ELEV8 group rather than a Zoom Room event. For that reason online viewers DO NOT have to pre-register to receive login info.
Simply join us in the ELEV8 Your Life private Facebook group at the time of the event and look for the video with the red LIVE indicator in the corner. (It is always easiest to search for any video by clicking the Videos menu on the left side of your screen on PCs or under the Photos menu button on mobile.)
This ELEV8 Facebook group will be the same location you will find a replay of the event after it has concluded.
Facebook LIVE broadcast begins 9pm ET, 8pm CT, 7pm MT, 6pm PT/Arizona time

If you have any questions about our ELEV8 Community Connections events, please email us at ambassador@elev8yourlife.love
*************************************************************************************************************
ELEV8 Community Connection

Date: Thursday, May 20, 6-8pm PACIFIC time (starts 9pm ET, 8pm CT, 7pm MT, 6pm PT/Arizona time)
Class Title: Building Resiliency for Sensitive People featuring Dani Fierro

Description:
What participants will learn:
Ways to build resilience in the areas of Mind, Body and Spirit.
Gain skills on how to fortify their energy field.
Learn an exercise to practice and re-enforce their new resilience building skills.
The benefits participants will experience:
Feeling more at ease knowing they have the tools to adjust and react to life's challenges.
Confidence in their ability to get through tough situations even if they don't have all the answers at the moment.
Feeling empowered to take on any obstacle.
Bio:
DANI FIERRO is a Transformational Coach, Motivational Speaker, Energy Worker and Reiki Master providing a space of safety and encouragement to allow her clients to work through their challenges and move into the life they want.
Her services include individual and group transformational coaching, reiki healing sessions, motivational speaking engagements, and engaging workshops and classes.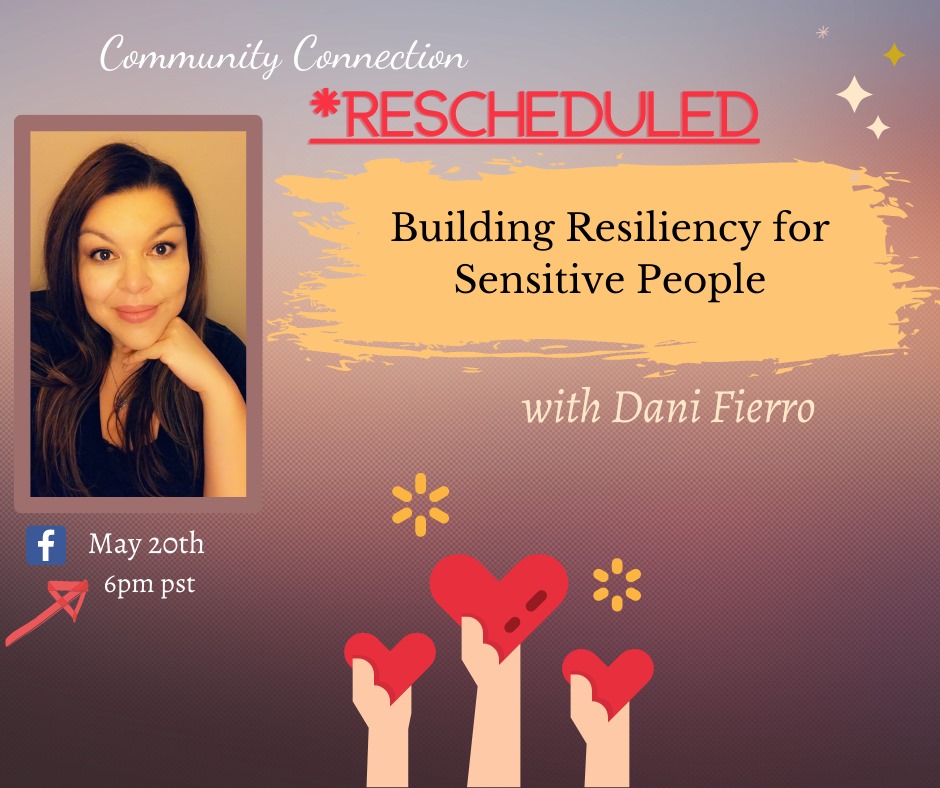 Contact Info:
Website: https://danifierro.square.site
Facebook: DaniFierroLifeofLotus
Instagram: dani_fierro_lol
Email: DaniFierro@lifeoflotus.com
REGISTRATION NOT REQUIRED for these currently ONLINE ONLY events
All in-person spots have been filled ... please click here to sign up on our waitlist and we will let you know if a spot becomes available.